Minna got involved in Crossfit in early 2013 after she had been training like a bodybuilder for years. Crossfit made her healthier and stronger. She moved to Phnom Penh in September 2016 to join Amatak. As an original Finn, Minna is an avid coffee drinker and a weightlifter. This Masters athlete finds her joy from coaching the elegance of Olympic lifting. Although it is challenging, she says it gives her happiness to see athletes put the pieces of each lift together. She believes health should be defined by how our bodies feel. Minna likes to nerd out by studying the anatomy of lifting and movement.
"Train for the movement and heavy lifting will come over time."
Coach Ivan is proof that change is possible. On March 8, 2012 he was reborn and traded in booze and cigarettes for barbells and clean living. He began his new journey playing American football in Russia, using CrossFit as a supplemental strength and conditioning program. Soon, he found himself focusing more and more on CrossFit, and less on Football. It became his passion, and he decided to make another change to pursue a career in health in wellness.
He began coaching at the end of 2012. As a certified coach with experiences on both ends of the health spectrum, Ivan is able to relate to people on personal levels and has used his experience to help motivate and inspire others to do the same.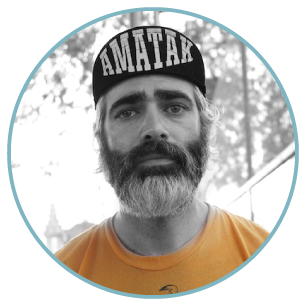 Corbett Hix
Founder & Managing Director
Corbett founded CrossFit Amatak in 2014 after a surprising number of friends continued to join him in parking lot workouts at a Phnom Penh gym. With a work life that is usually 60+ hour a week, his biggest love of CrossFit is the efficiency and the community. He splits his time supporting Amatak as a coach, helping with graphic design and helping out in back office funness. When he's not working out at Amatak, he's busy with one of several other endeavours in Cambodia.
Corbett has B.A. in American Studies from the University of Texas and an M.A. in International Development from American University (Washington, DC).
"I'm not a role model"